Contact us...
Online
For further information and details please use our online enquiry form.
Mail


The Longcroft
Storeton Lane
Barnston
Wirral CH61 1BU
UK
Phone
Call us on 01306 631 440
Email
Email us on:

Or if you know your area of interest: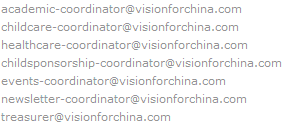 Vision for China is a company limited by guarantee, number 5467314 registered in England and Wales and has its registered office at the Longcroft, Storeton Lane, Barnston CH61 1BU. UK. It is also a registered UK Charity, number 1112500 and a member of Global Connections.